---
I know that did not update this web side really often, but I will try to add some news from last few months..I promise I will be better..)))
---
06.11.2011
Special show for american cockers in Prague
On sunday we have had a speciality show, where i showed just Jamie and I have to say we did good, much better then I have expected. Fisrt of all Jamie received CAC and them he went best black dog and at the end he also received best male and tittle SPECIAL SHOW WINNER. Thank you to breeder judge Linda Volarikova I really appreciate all your nice words.
Thank you all my friend who made this show unforgettable.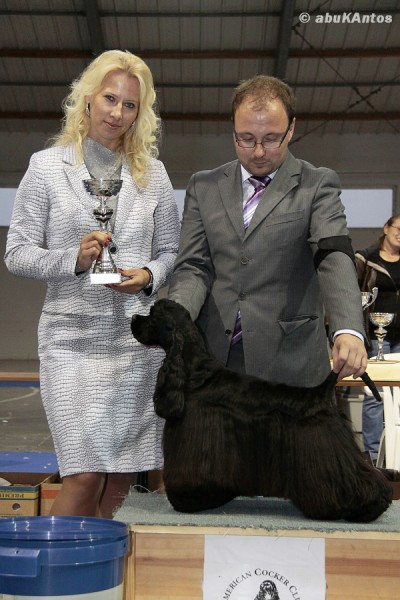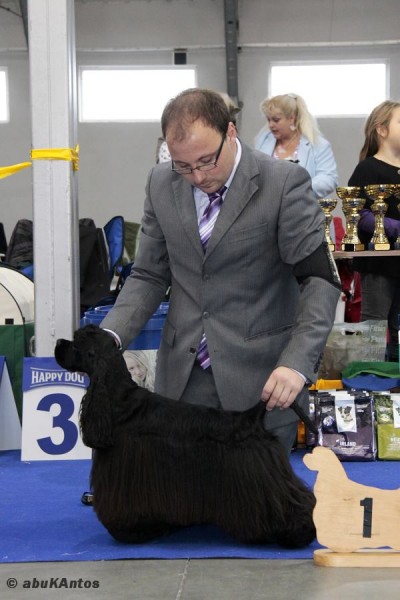 ---
17. 11. 2011
National dog show Czestochowa Poland
Thiswas areally cold show , and hard to belive it was outdoor show, in the morning the temperature come to minus 1. This show was held under the club of Czestochowa and it was on the beautifful football playground, the sun was shining the whole day and I have to say I really enjoy this freezing almost winter show.
My dogs did really god Jamie has been in Poland first time and he starded his polish title with CWC and the best male in breed.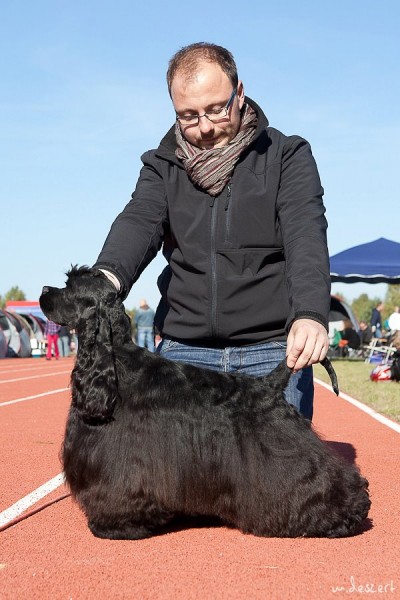 I have also Duc the red evil and he also did really good, have to say evem better then Jamie..)))
Wining CWC, best male in breed and also BOB.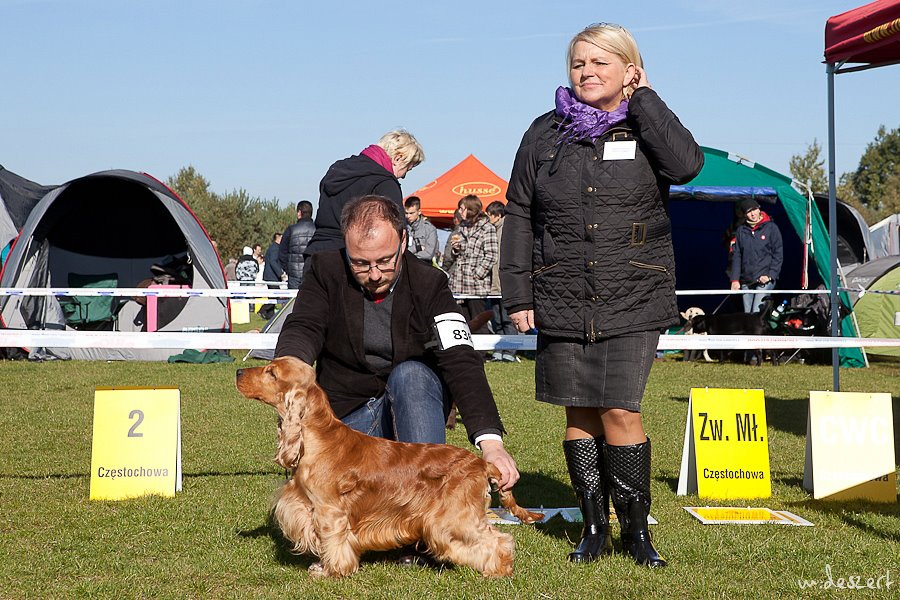 I took my friends american cocker bitch to this show, her name is Volcanic Aesku Eruption and she did really well with me winning CWC, best bitch in breed and also BOB.
Thank to the judge for all nice comments and for the nice day.
---
05. 11.2011
International dog show Prague
It is really to have a show in the place where I live and also o spend a nnice weekend with a good results , thats what i like about the dog show...sometimes..)))
Jamie showed really nice and received CAC under well respect breeder spacialist Mrs Ivana Zahraníčková, thank you very much.
And at the same show we showed the red evil Duc and he also received the CAC from breeder judge Mr Pavel Šulcek
---
It has been a long tome since I have updated my website, and since then a lot of happened.It is almost not possible to go one by one, so i will just mentioned the most imprtant things....I will start with my junior Jamie, american cocker Pointbreak Lets Get it Started, he was shown just a few times in the Czech , Sloval, Poland and Austria, so far he is Czech junior club winner, Czech junior champion, Austrian club winner and reserve cacib and he made me proud with his breeder at the world show in Paris where he won JUNIOR WORLD WINNER and also BOB JUNIOR.Thank you Lone.
---
I have also new member of your house, he is englis cockers spaniel and he arrived from France for a while to be shown by me. His name is Duc and he is really sweet dog, always ready for some action and full of the good mood.
Owner od this dog is Mr Jerome Desmarchelier, kennel DU BOIS DACHELLES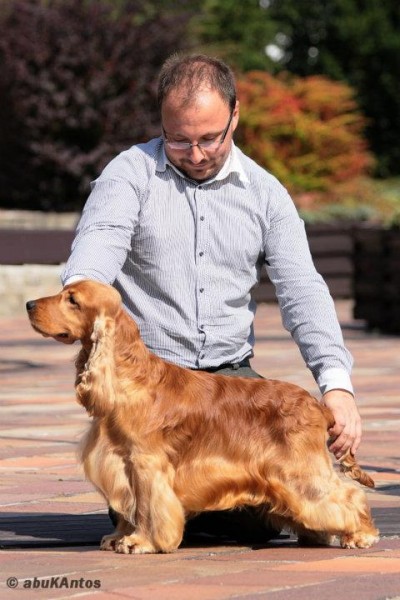 ---
15.05.2011
International dog show Bratislava, Slovakia
As we know, not to manypeople cant be without dogs show, so I have also enterd the show in Slovakia on Sunday, Jamie went second in his class. Jake got again best veteran in the breed, at the end of the day he went 2 nd BIS veteran.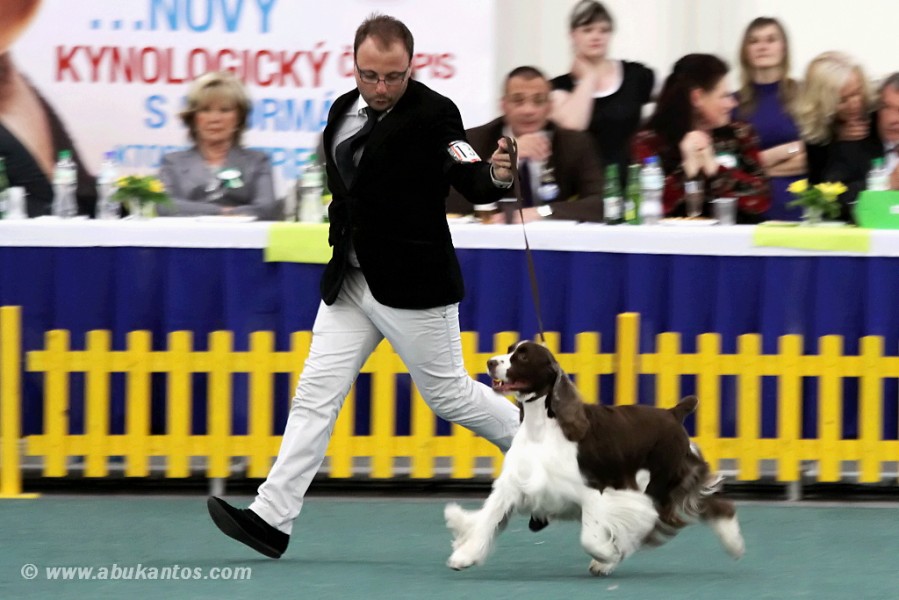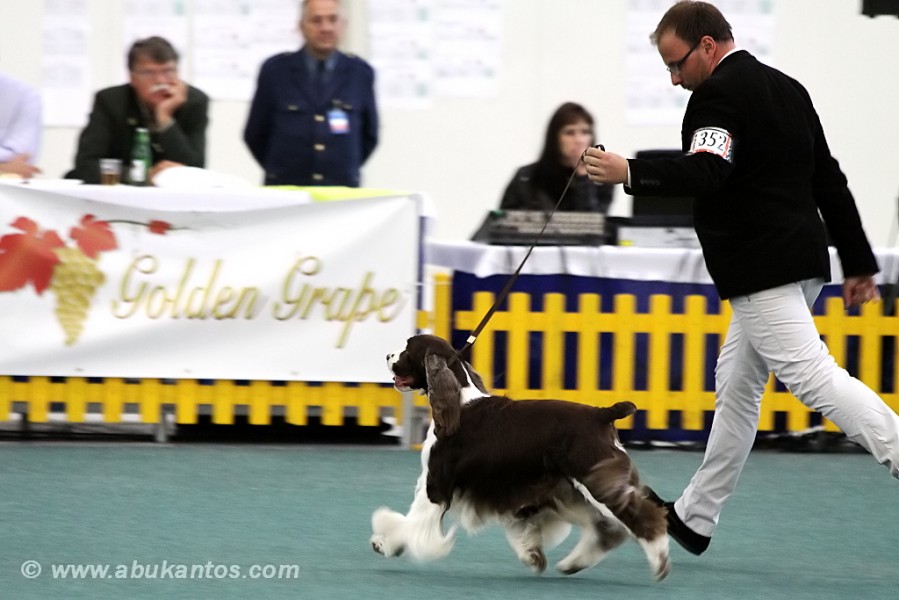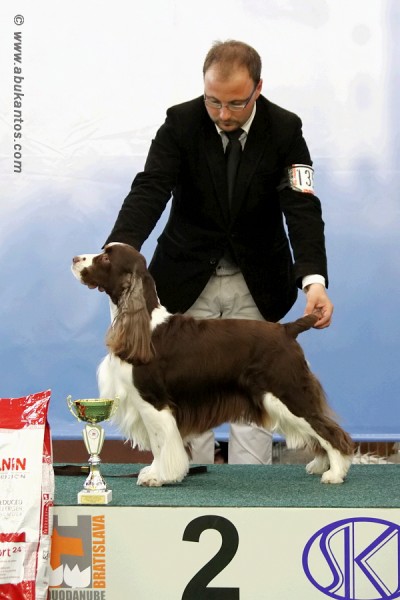 ---
14.05.2011
International dogs show Prague, Czechia
I have to be at this show not only because of the judge from UK Mrs Jacke Hill but also because it is nice to have a show in the city where you live. As usually I had Jamie with me and again he went Cajc and Junior Bob.
---
Retriever club show Humpolec 07.05.-08.05.2011
Flat coated retrievers are one of my most favourite breed, so I have decided to join this club show and helped Anny to show her beautifull dogs.
Of course I got the wild Connie, but she really enjoy being in the ring and got CAC both days.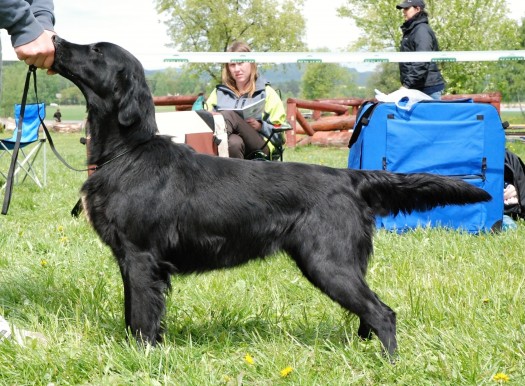 And of course I cnt forget to mentioned Gas, because he went CAC, club winner male and also BOB on Saturday and CAC on Sunday.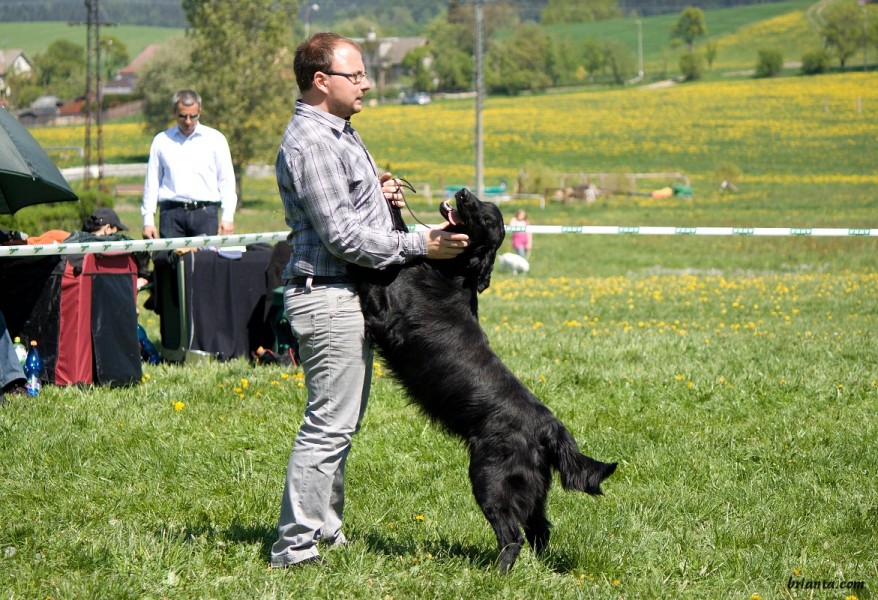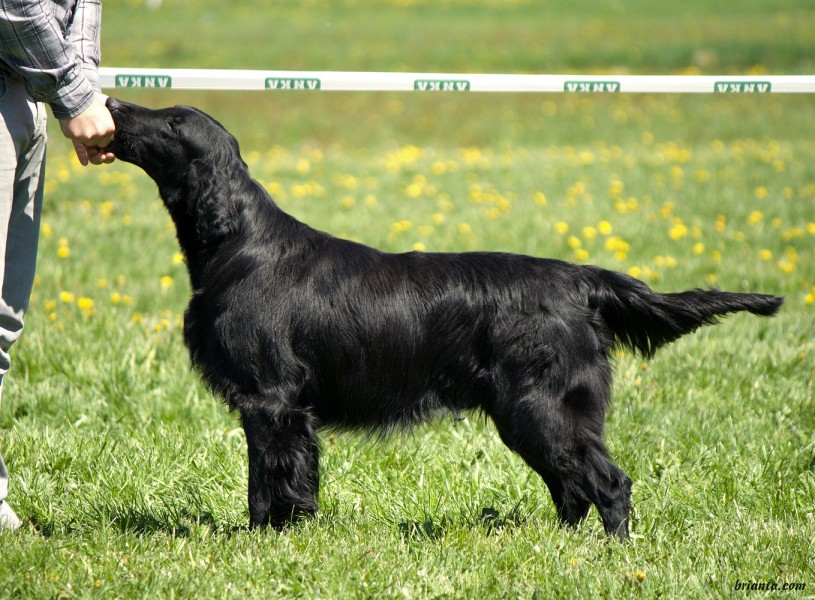 Both of these dogs are owned and loved by my dear friend Anna Zimova
---
Trip to Sweeden 01.05.-05.05.2011
Whan Anna called me that Era is in season, I knew that we have some other great trip in front of us, and as I know Anna I was sure that we will go to north of Europe to Sweeden, and I was right. Of course we cant missed to visit our dear frined in Denmark, Lone and Henrik Wandels and spent a lovely time with them. I do not know what happened when we arrived to Sweeden it started to rain and also bit of snowing. We spend lovely time in the small cottage by the lake and we have been to visit some cities and also we cant missed Stockholm.
I have seen a lot, but honestly I have to say Stockholm is one of the most beautifull pleaces , where I have every been, so my friend be sure I will come back.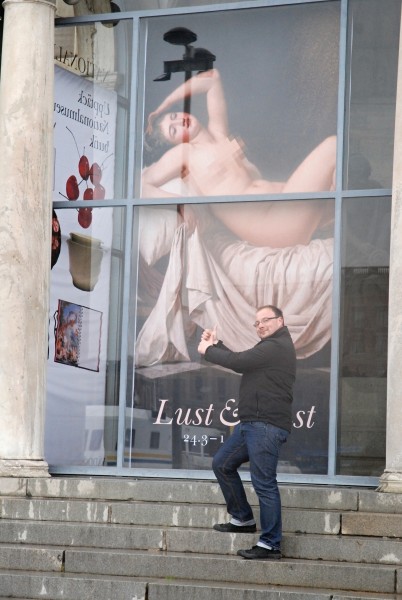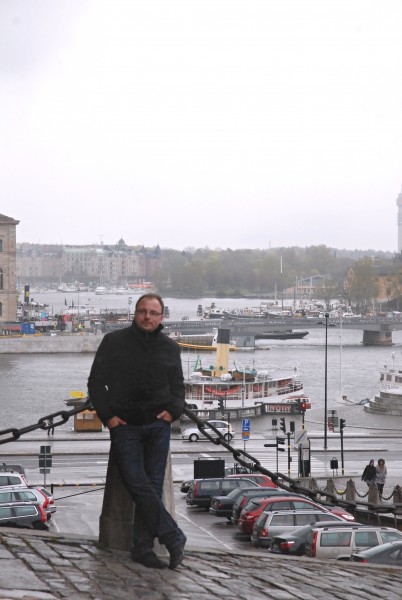 ---
09.04.2011
National dog show Ostrava, Czechia
As I have decided to keep Jamie for a while , I have entred him to the national show in Ostrava, he did really well and won CAJC and Also Best junior in breed and finished his czech juniorchampionship. Also I have entered Jake at this show and he also won best veteran in breed.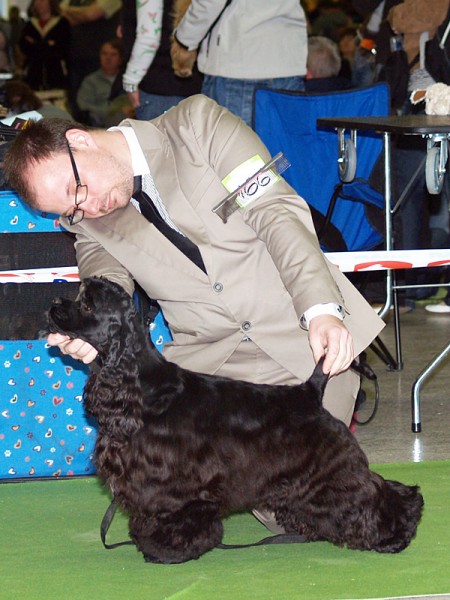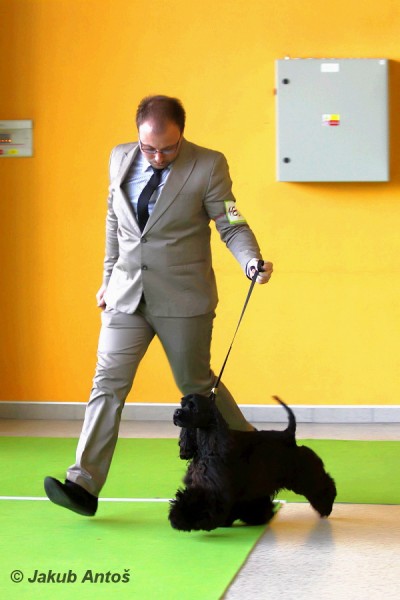 Anna cant missed this show neither so I was showing some flats coated for her, Gass won his class and got National winner and also wion BOB and at the end BIG3.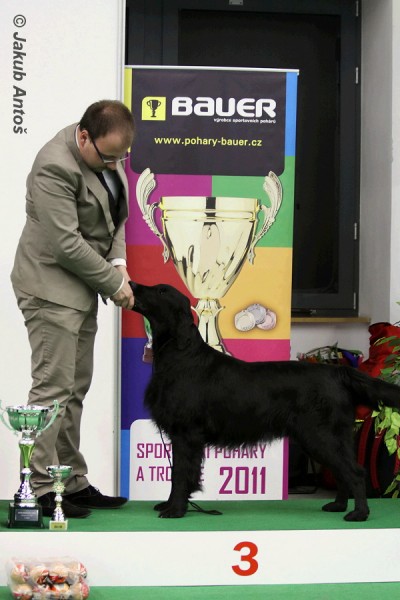 Thank you to Jakub Antos and Jana Vallova for nice pictures
---
18.03.2011
International show Katowice, Poland
As soon as I have seen the judge for this show , I have decided to enter this show, and as I know my dear friend Anna she cants missed it either . And I have to say it was a good choice. I took Jake in the veterans again, and it was really nice surprise for me when he went BOB over some younger dogs, he was showing himself so perfect and as usually he enjoyed everymoment in the ring. He also received BIG 3 and in Best veteran in show he went 2.
Thank you very good Anna for nice weekedn as usually and thank you mr Dupas for nice words.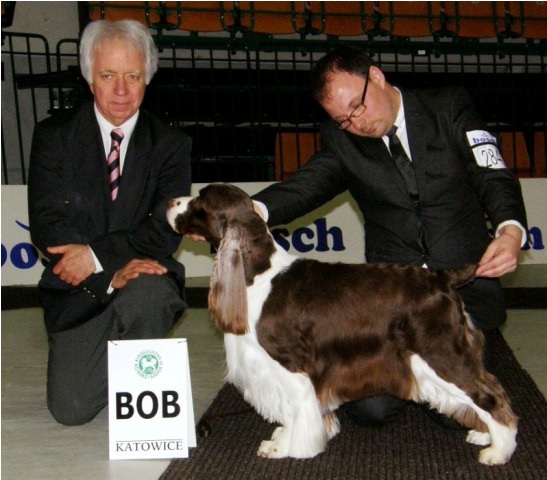 ---
26-27.02.2011
International shows Arad, Romania
At this show I have decided to enter Jake in the championa class, we won CAC, CACIB,BOB and finished his Romanian championship, in the evening Jake was shining in the group and ended up as Group 2.
On sunday he was eneterd in the vetrean class, winning best veteran in the breed and also BOB.
It was a shamed but we cant wait till group competition.
---
05-06.02.2011
International shows Brno, Czechia
As usually every year we have this big double shows in brno, so we cant missed it. my dearest friend from Denmark Lone and Mariana come to join us at this show, and as I expected it was a lot of fun during this weekend, Our friend from Switzerland also arrived and we all stayed in the house of Anna in Brno.
Jake was shown both days in the veteran class, winning best veteran in the breed on Saturday, and EX1 on sunday.I have to say even we did not win to much on Sunday I have goot one of the best critique , what I have ever get. Thank you Mr Per Iversen for this.
At this show Jake finished Czech Veteran Championship.
Also at this show my dear friend Tereza took jake for Junior hangling, she is doing really great job and she is one of the few people , who I can trust with Jake.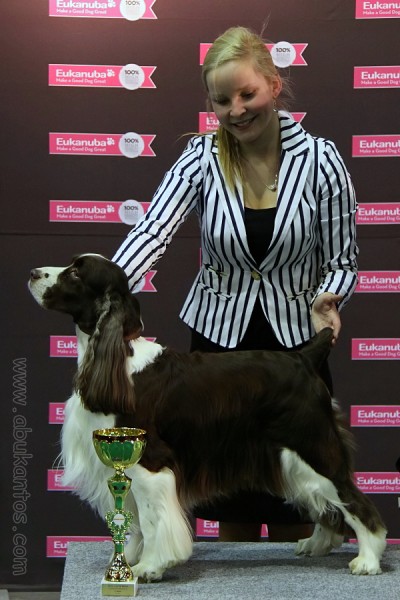 ---
29.01.2011
Internatinal show Mouscron, Belgium
Belgium is one of the country , where I did not show yet, so I have decided to give it a try. We spoke about it with Klara and we just dediced to ener it, and I have to say we had a lots of fun as always. Thank you Klara for a great compay at this trips, looking forward for the other one , hopefully soon.
As usually i took Jkae with me and my old bro made me proud again, not only winning best veteran but also winning BOB over much younger dogs. Not only that he still looks good , but he also enjoy every minute in the ring ...especially in the BIS ring, and he did it again winning BIS VETERAN.
I have decided to also take one flat coated retrivery with me and this time it was Coonie, he really showed herself bautifully and also won BOB.
We did not do anything in the group but some people come to me with a lots of nice words, and thats means a lot to me, thank you.
---
22.01.2011
International show Trencin, Slovakia
I always like to show in Trenci, even as every year it is freezing cold .
Jake was shown again in the veteran class, and won best veteran in the breed and in the big ring ended up as BIS2.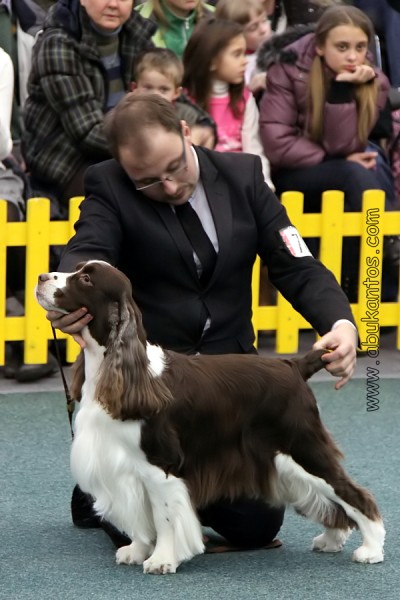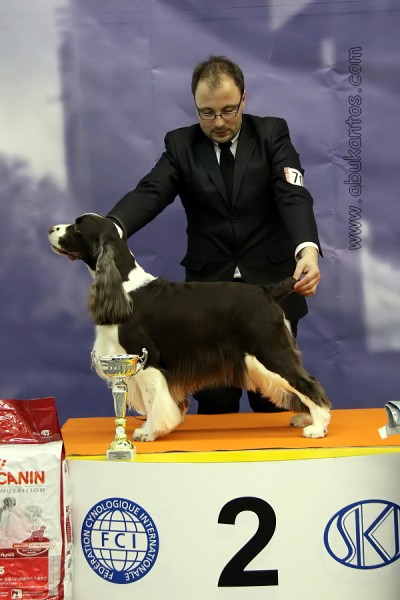 ---
08.01.2011
National show Olomouc, Czech
This show is really special for me, not only that it is being held on the city where I was born, but in 2005 it was the first show when I showed Jake in Europe, and I have to say time goes really fast and this is the first show for Jake in the veteran class. I have to say he males me proud as always and ending up as BIS Veteran.
Thank you Mr Luknar for all nice words.
---
Sorry that I did not update my web for a long time, so I promise I will do it more often since now...)))
There is no need to update everything whats happend last year, I have to say it was a nice year, thatnk you very much to all my friends for the great year, thank you also for all the people , who trusted me with their dogs.
---